Hidden Orchestra – Live @ Lido
aaamusic | On 06, Dec 2017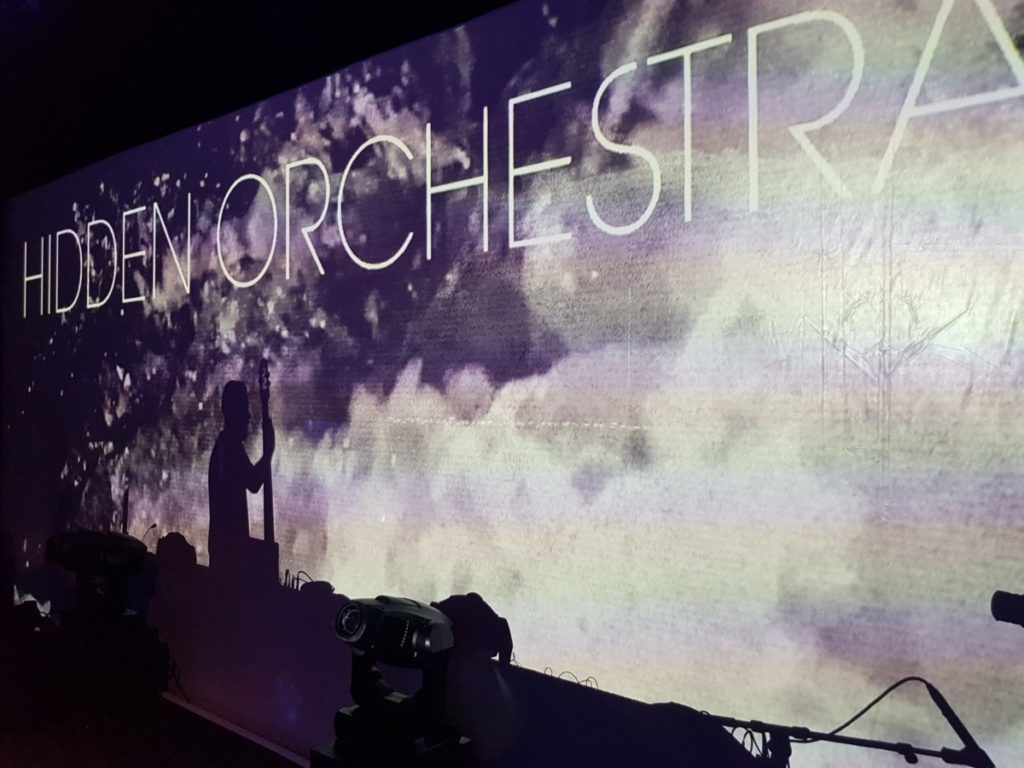 Wednesday 22nd November, Berlin
It's been a few years since I last saw Hidden Orchestra live. Three years, to be exact – not since their beautiful AV show at London's Union Chapel in 2014. I had no idea what to expect from this mid-week show at Berlin's Lido. What kind of setlist would it be? Would there be visuals? I didn't even know whether it was going to be just main man Joe Acheson performing solo, or whether he'd have his full band in tow. Fortunately, Acheson had indeed bought out his core band with him – including the wonderful Poppy Ackroyd, who also did a solo support slot – as well as an AV dude. And although the show may have lacked the power of that career-defining show at Union Chapel, their newfound subtly made for an interestingly hypnotic performance.
As usual, songwriter, producer and multi-instrumentalist Joe Acheson took centre-stage, positioned behind decks and armed with an electronic upright bass. To his right was violinist/pianist Poppy Ackroyd and to his left was an AV technician, who programmed live, real-time visuals. And flanking them all were the band's two drummers, positioned with their kits facing each other. Armed with a new album, Dawn Chorus, it was of no surprise that the bulk of tonight's setlist consisted of new material.
For those that haven't checked out Dawn Chorus, it's a more delicate collection of tracks than their older records, featuring multiple samples of birdsong and gentler rhythms. This makes for a more introspective live performance, with Poppy's keyboard and violin parts given more space to move and the drummers usual freneticism reigned in a tad. But while there are less headbang-worthy trip-hop stomps than usual, these more minimal cuts from Dawn Chorus sound more much otherworldly than anything Acheson has conjured up before.
Highlights of the newer stuff include main single 'Wingbeats', with its minimal modern jazz undertones, heady 'Wester Isles' and the grumbling neo-classical of 'East London Street'. However, the best parts of the gig really are the handful of times that they delve back into the Hidden Orchestra back-catalogue, especially the heavy, orchestral trip-hop mastery of 'Antiphon' from Night Walks. A couple more of these older cuts would definitely have been welcome. There are, of course, moments where the band are allowed to let loose, with a couple of trademark drum battles and two rave-ready remix versions – these moments best showcase the bursting talents of the band's musicians.
All in all, it's great to see a band like this attempt a slightly new direction at this point in their career, that though understated is undeniably intelligent. But Hidden Orchestra have always been the most intelligent band to come from this decade's wave of post-electronica-jazz fusion acts.
Clive Paris Rozario