HAWK EYES – That's What This Is
aaamusic | On 19, Aug 2013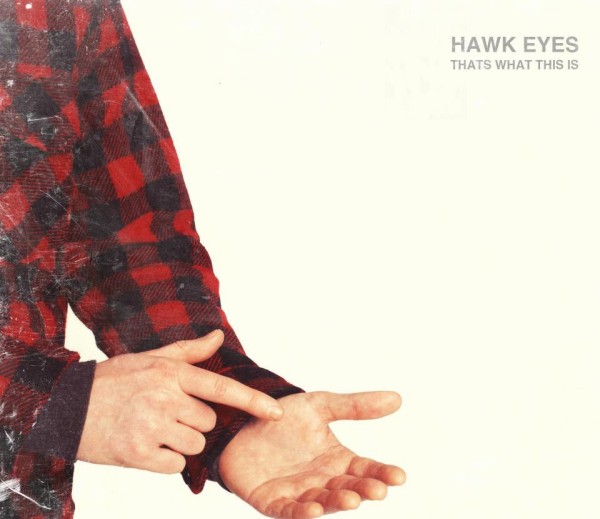 Given Hawk Eyes' massive stylistic shift in the space between Modern Bodies and the Mindhammers/Ideas era, I was very, very curious as to what this constantly-evolving rock-pop-metal-prog-hardcore four-piece would be doing next. As it turns out, their crowd-funded EP That's What This Is is a refinement of the last two releases' sound. Once again, there's an almost proggy use of shifting time signatures and tempos as well as the band's trademark seething energy and churning, heavy riffs; but the hooks are, if anything, even more evident than in Ideas.
Title track 'That's What This Is' starts with a tense, distorted yet distant riff and rattling, hollow snare attack before plunging into a thick, jagged sound, the band becoming a single sonic entity, ploughing deep into every frequency and sculpting it into a great opening track. Although the verses are not too attention-grabbing – preferring to slowly build tension like a rabid dog behind a gate with snarling a prominent, snarling bassline – the chorus is a massive onslaught with commanding vocals (I don't think I've heard Paul sing with such confidence on a recording since the early material) and clattering cymbals. The climactic bridge is an almost doomy slower passage, slamming bass frequencies up and allowing notes to ring out with crushing tightness and controlled feedback before the palm-muted chugging and lumbering toms hurl the listener back into the last chorus. And although the lyrics are as abstract and borderline confusing as ever, they whole thing is so imbued with power and passion you'll find yourself wanting to shout along like it's the answer to all your life's mysteries.
'Never Never, Just Now' is a slower number, featuring a sparse intro with  panning guitar noise that sounds like a computerised alarm system in a videogame, before a breathtaking hurricane of almost synth-toned treble-heavy lead guitar, fluid and sleek basslines, and vocal lines that raise the hairs on the back of the neck start up. The song itself is a pretty standard Hawk Eyes number, with every instrument booming gritty bass frequencies and feral treble yowls that any extreme metal band would kill for, and yet the whole thing is so deftly melodic and well-mixed, it comes across as challenging and heavy yet also immensely listenable. Yet what marks this out is not only the cybernetic guitar tone, but also the way the band are pushing themselves in terms of songwriting, meshing together keening, slow-paced passages with heavy, metallic sections and a spectacularly bombastic galloping end section with frenetic yet entirely controlled guitar work that could have come from Queen or Muse, until the stabbing final chords of that robotic guitar round it off again.
As if to then balance this sudden sense of baroque intensity, 'Cheap' is a punchy, rhythmic marching mosher of a track that grinds its teeth in meaty basslines and a cowbell groove of all things. Heavily indebted to most things Steve Albini in terms of aesthetics, the melodies veer from groove-metal-meets-Kraftwerk mixes of discordance, headbanging, and skewed catchiness to an almost classical melody in the instrumental sections, and the barking vocals spit out lyrics that are in fact a lot more complex than you might assume. Although the refrain "Cheap! I'm cheap!" gives a punky angst to the proceedings, "dance with the devil's daughter/wine and holy water" and "Cheap, I'll be fine if I knew what it means" add a sense of otherness to it all.
To close, 'More Than A Million' again uses the increasingly masterful churning, controlled-chaos lead guitar riff style that is rapidly becoming a band trademark, but the verses feature choppy, held chords that provide space for some of the most melodic, clean vocals I've ever heard on a Hawk Eyes record, and there's even what appears to be a brief lyrical nod to Bowie in the chorus. However, this is no pop ballad. The chord progressions are dark and moody from start to finish, the lyrics are all with a distinctly bitter twist. The choruses themselves soar triumphantly over proceedings, using the band's improved ability to interweave guitar parts, with one holding chords while the other weaves a quicker part through it. The solo is a bit too math-rock note-bothering to fit and so feels incongruous and shapeless, but other than that the track is a thrilling way to end a great EP.
Although perhaps not as groundbreaking a change in sound as Mindhammers, That's What This Is shows that Hawk Eyes are still one of the most exciting bands in the UK right now. A more immediately noticeable catchiness and exuberance sit alongside the savage heaviness, frenetic energy, almost unbelievable technicality for such a young band, and intelligent approach to songwriting that has always been their stock-in-trade. This may well be their most accessible release to date, but there's no hint of commercialised compromise here. Old fans will enjoy the subtleties and nuances added to the band's already highly-developed sounds, and newcomers will find a diversity of influences, coherence of style that makes it even easier to get into. And really, what matters most is that at the end of the day, it's just really f**king good.
Katie H-Halinski