LES JUPES – Negative Space
aaamusic | On 04, Oct 2013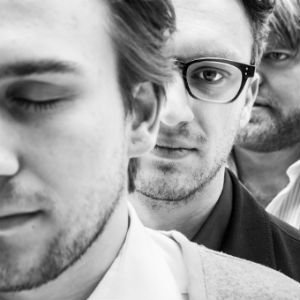 The first thing that struck me as I listened to Les Jupes' new EP, Negative Space, was the baritone voice of lead singer Michael Petkau Falk which reminded me of the deep, brooding sound of The National's lead, Matt Berninger. The moody start to opening track 'Save Your Friends' soon gives way to a flourish of drumming, sounding reminiscent of early Arcade Fire. Neither of these associations are a surprise however when you consider the fact that the producer for their upcoming album, Marcus Paquin has worked with both as an engineer – with Arcade Fire on their album, Neon Bible and The National on their latest album, Trouble Will Find Me – and has obviously been influenced by these two trailblazers of modern indie music.
That is not to say that this four-piece from Winnipeg have created something derivative. With Negative Space they have a sound of their own; the pounding drums and call-to-arms cry of 'Save Your Friends' sets the EP off a strong pace. I feel it is always something of a risk with baritone-voiced lead vocalists that whatever they are singing can begin to sound turgid and morose after a while however Les Jupes counter this with bass lines that shift effortlessly from reassuringly rhythmic to light and melodic. Melody is also used to great effect by the female support vocalists and keyboards on second track, 'The Voices'.
Les Jupes are clearly a group who understand how to utilise the influences of their predecessors whilst at the same time refuse to sacrifice their originality – final track 'Interview With a Contract Killer' is a well written anthem, and as Petkau Falk chants 'spit it out/is this all you know' over high pitched keys and buzzing bass, one feels that he has the raw power and anger of Nick Cave backed by the excited energy of a modern indie four-piece. With this EP, and the influence of a producer who I am sure we are to hear more from in the future, Les Jupes have delivered a tantalising taste of their full-length recording, which is pencilled in for 'sometime 2014'.
Will Pye