AAA Music Approved: Antlered Man
aaamusic | On 20, Nov 2013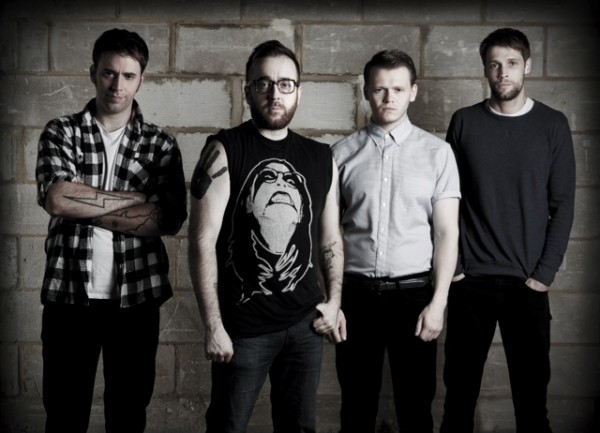 AAAmusic: Who are you and where are you from?
We are Antlered Man from London, a small place called Bermondsey.
We hold no real candle for the place and don't know if it inspires any part of our sound, it's just a place where some of our parents got to last base and we now have to chill at. We all played in bands together previous to AM and wanted to form a collective to be reckoned with. It was that easy.
AAAmusic: What inspired you to get into music?
Great noise makers like – The Melvins, Tool, Dillinger Escape Plan, Mastodon, Fantomas. We tend to go for bands who push the envelope and dictate what their sound is. I would love to have a vast catalogue of fly tunes that people could reference as an "Antlered Man sound" one day. There are too many people just trying to be derivative to appease masses with the 4/4 beat to sell records. I wanna grab them and scream "F**k your 4/4 career, kid! It's all about 8/13 and selling your bands rad T-shirt!". Oldies too like – Velvet Underground, Led Zeppelin, Queen. I actually Listen to a lot of Harry Nilsson and Prince if I'm feeling in a murderous mood. And the Wu…always the Wu.
AAAmusic: What have you done?
Well since about Feb 2012 we've played over 150 shows all over the world, met some great touring partners on the way and suffered with many happy hangovers with those friends. We've put out two albums in two years but it's still really the beginning for us, we have a long way to go and we have a whole bunch more to come.
Don't really know what impact we've had because we just keep our noses to the grind and keep going at it, but maybe we will run into an Antlered Man covers band on our travels one day, that could be quite pant raising.
AAAmusic: What are you like live?
I could try and give you a cool synopsis of how "we are like a meat grinder floating on a rainbow of anguish" but it's something you have to come and witness yourself and form your own opinion. I'm bias on the subject because it rocks my foundations.
We always take our shows very seriously and try and make every gig the best show that we can. You have to give the punter his monies worth, unless you got in on guestlist, in which case – CLAM UP! It's free.
Can't really pick a best tour because they've all been great points in our, so far, short careers. The tour with And So I Watch You From Afar across Germany and up to Poland and back was very memorable and we bonded with those guys, which then extended into us recording the album in Belfast with their producer Rocky O'Reilly, sleeping in their living room for a month and poaching Rory's luscious axe skills (thank you again guys).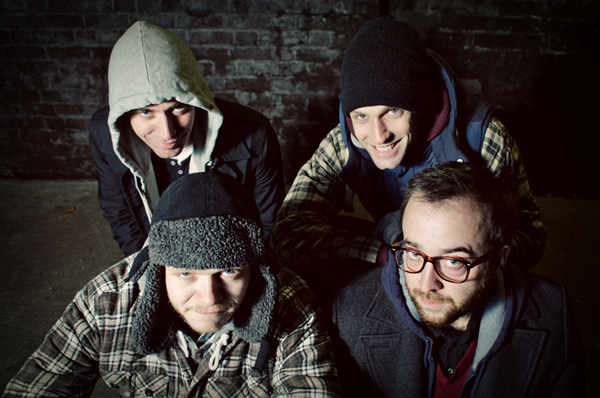 AAAmusic: What makes you different?
We certainly don't go for a look. We're kinda resigned to touring in the back of a Transit for the next few lifetimes, so skinny jeans would cause some serious blue balls. I also feel that "our sound" will be accomplished over many albums and much genre delving. I don't want to speak for anybody else, but maybe people who hear us playing really respect that approach.
AAAmusic: Physical vs Downloading vsStreaming…How do you listen to music?
I've noticed lately that Spotify have been pulled into the spotlight for not paying artists the right amount of money to stream tracks, which is bullshit but the bands who are pulling their music off of the site; most are already established. If you don't have a following then these sites are an essential tool to spread your music. It's a double edged sword. Personally I prefer CDs and Vinyl and being able to hold the albums in my hand, but I also download music and stream it to check it first. Live shows are the way forward, then you can see the band in front of you and buy a cd off them after the show. That's how we do it.
AAAmusic: What have you been listening to?
Some new albums that we've been playing on the tour bus:
The Melvins – Tres Cabrones
We Are Knuckle Dragger- The Drone
ASIWYFA – All Hail Bright Futures
Palehorse – Harm Starts Here
Dillinger Escape Plan – One Of Us Is The Killer
As far as new discovery goes, you must check out:
Seven Hundreth Unicorn. They don't have an album out yet but thy rock well and hard.
AAAmusic: What are your aspirations for the future?
Well, this year was all about album recording so next year is gonna be a gargantuan live one. We can only afford to discuss our next record with each other at the mo, as we don't have a studio at our disposal. Judging by some of the postures we've been pulling, it looks like it'll be a corker!
Questions answered by: Damo of Antlered Man…
Check out our review of Antlered Man live at OPEN…