Suzanne Vega – Live @ The Barbican
aaamusic | On 10, Feb 2014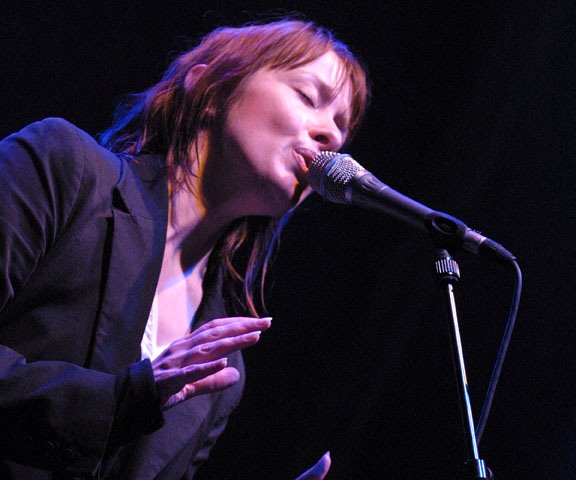 Friday 7th February, London
New York folk singer songwriter Suzanne Vega, the legendary cult figure from the 80s, has continued to influence and inspire new artists, and she still wears a great silk top hat at her performances.
Tales from the Realm of the Queen of Pentacles, her first album in seven years, was released on 3rd February, 2014 on the Cooking Vinyl label . This obtuse sounding title tells mystical stories about how the spiritual and material worlds merge.
Natasha North was an excellent choice to open the evening and here she played a moving six song set with intimate and reflective songs that have recently been released as an EP.
Suzanne blended old and new songs and was supported by versatile producer and guitarist Gerry Leonard, David Bowie's musical director, who Suzanne says "just acts like there are many more of him".
The rocky celebration of dark clothes 'I Never Wear White' was amusing and confrontational, but apparently true. Suzanne never does! 'Song Of The Stoic', about a man looking back at his life approaching the end, was tender and touching. The thoughtful 'Jacob and the Angel' retold this well known biblical story with complicated rhythms. 'There Is A Road (Horizon)' was a careful tribute to Vaclav Havel, Czech playwright and poet, and it included a rich trumpet solo by Alison Balsom.
There were also plenty of Suzanne's intriguing classic songs.  The surreal poetry of 'Small Blue Thing' and the haunting beauty of 'The Queen and the Soldier',with its tale about murder, chivalry, loyalty and betrayal. The intoxicating 'Left Of Centre' and 'Luka', the gentle song with lyrics tackling the dark topic of child cruelty. Her surprising encore was Lou Reed's 'Walk on the Wild Side.'
Suzanne Vega remains a compelling and powerful storyteller with great insight and she sings in her warm, husky and distinctive voice. Her impressive, intelligent songs are curious and unpredictable, but performed with modesty and confidence.
Anthony Weightman