A/T/O/S – A/T/O/S
aaamusic | On 24, Feb 2014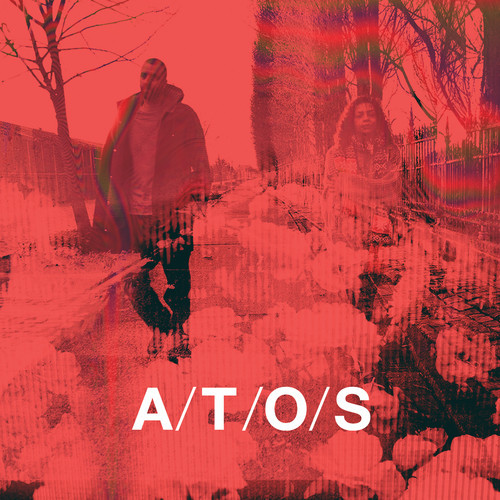 The first LP any record label chooses to release and establish their mark is big business. It must represent what the label is about, the sort of artists they want on their roster and most importantly cement themselves in a sea full of independent sharks. It is no wonder why DEEP MEDi, have selected the London based duo A/T/O/S' self-titled debut album as the one to make these waves.
The album features 15 tracks that have been skilfully and thoughtfully put together, offering approximately an hour of audio time. Songs which subtly focus on the ups and downs of finding and being in love, but approaching with caution are scattered throughout the lyrics on this record, "You've got to be prepared, I'm scared" ('A Taste of Struggle'). A mixture of urban, ambient and chillwave sounds this is communicated instantly through 'Projects' the opening song on the album. Which builds with dark pulsations and as the rhythm becomes faster you are enticed by a cold but mesmerising r'n'b vocal, which features throughout the record. The experimental nature of A/T/O/S' talents are not to be ignored as 'What I Need 2' begins with neo-classical piano which is entwined between distorted beats and bleeps which mid way swirls into a hectic fury creating an overwhelming auditory sensation. 'A/T/O/S' is a hotbed of reverb, deep bass lines, delirious layering and sharp cuts which is demonstrated by other standout tracks such as 'Paper', 'Roses', 'Room', 'Run' and their debut single 'A Taste of Struggle' which has already been remixed by the likes of top producer Skream and acquired the pair a fan in the form of the notorious DJ Mary Anne Hobbs. 'Variations' at 8.28 minutes brings this lovelorn album to a mellow close with silky vocals and a smooth melody which slowly fades out into bassy drum beats. The only downside to this album is the two 'Interlude' tracks that feel like gap fillers, which the record could survive without.
Having had a successful 2013 with a feature on mixmag.com and a triumphant performance at DEEP MEDi LIVE, the label's presentation event supported by Noisey and Mary Anne Hobbs, it will not be long till this love child of James Blake and Mount Kimbie minus the male vocals become a well known acronym.
'A/T/O/S' is due for release the 3rd March 2014 in 3 x 10" Vinyl and Digital formats.
Lois Browne