SHOW OF HANDS – Centenary
aaamusic | On 14, Aug 2014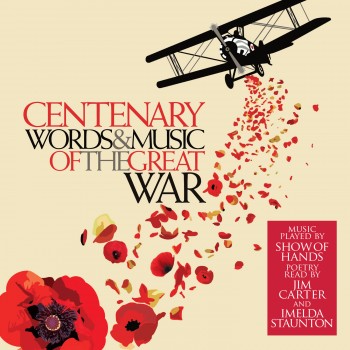 Over sixteen million soldiers and civilians died in The First World War, with a devastating effect on Britain. For four brutal years soldiers experienced horror, humour, comradeship, drunkenness and exhilaration in the trenches.
Two popular and fine actors, Jim Carter (Downton Abbey) and his wife Imelda Staunton (Harry Potter), have joined the respected West Country acoustic trio Show of Hands to commemorate the starting of the First World War with a double CD called Centenary, which was released on 30th June, 2014.
Phil Beer, Steve Knightley, and Miranda Sykes, from Show of Hands, provide guitar, fiddle, double bass, tenor guitar and octave mandolin for the tracks and the well known folk guests who join them include Geoffrey Lakeman, Rex Preston, Chris Hoban, Paul Downes, Ed Rennie and Andy Cutting.
On CD1 are twenty-two poems read by Jim and Imelda . These contain angry and bitter lines from some of the most prolific poets of the time like Siegfried Sassoon and WB Yeats. Jim reads Wilfred Owen's 'Anthem For Doomed Youth' and Imelda May Wedderburn Cannan's 'Lamplight.' 'I Have A Rendezvous With Death' was written by Pete Seeger's uncle, Alan Seeger, an American volunteer who died in battle. Other songs from the era include 'Pack Up Your Troubles in Your Old Kit-Bag' and 'The Sunshine of Your Smile'.
On CD2 there are fresh versions of classic songs by Show Of Hands and new songs from Steve Knightley including 'The Gamekeeper' about a Devon man of the land who returned home from the war. Jackie Oates and Jim Causley finely merge 'Goodbye-ee', 'If You Were the Only Girl in the World' and 'The Lovely Nymph' and Philip Henry's  beat box harmonica version of 'It's a Long Way to Tipperary' is hilarious.
The album is a moving insight into being at home and in battle during those dark years. It contains inspired, powerful and extraordinary war poetry and remarkable new music which reflects the emotions of the time.
Anthony Weightman