Dimensions Festival 2014 – Live Review
aaamusic | On 08, Sep 2014
Wednesday 27th – Sunday 31st August, Croatia
With a location that manages to surpass Worldwide on the southern coast of France and EXIT in a Serbian riverside fort, Croatia's Dimensions Festival could be the most stunning setting for a large-scale electronic music event in Europe; it's certainly the most striking I've ever had the pleasure of revelling in. The bulk of the music is housed in the nooks and crannies of Fort Punta Christo, a woodland covered 19th century fort situated on a peninsula overlooking the entrance to Pula Harbour, but the festivities also extend to the crystal clear Adriatic Sea, with an expansive beach area and regular boat party trips (best one: the Hypderdub lunchtime boat trip, during which the great, gritty bass music of Kode9, Scratch DVA and Cooly G clashed with some delicate, inebriated house-heads, one of which tried to jump ship…literally).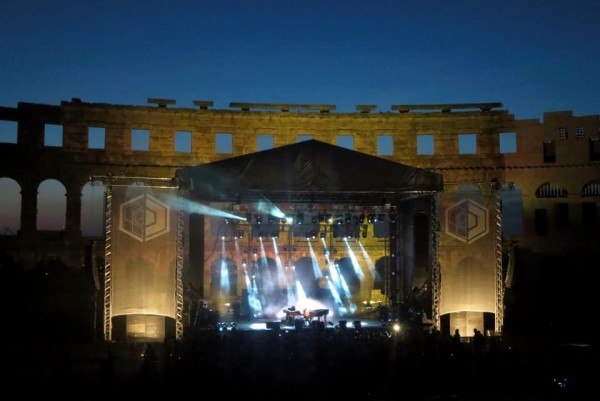 Wednesday: Opening Concert
Best of all, however, is the magnificent Roman amphitheatre in Pula, which housed the Wednesday night opening concert. Without doubt, the most beautiful, awe-inspiring setting for live electronic music – nay, live music full stop – that I have ever encountered (rivalled only by Worldwide's more intimate Théâtre de la Mer). Kicking off Dimensions is German classical pianist-cum-electronic wunderkind, Nils Frahm, who, with his back turned to the audience, crafts hypnotic piano and synth-led soundscapes using a grand piano and a set of keys with programming equipment. A masterclass in minimalism. Contemporary RnB upstart Kwabs comes next and though his soulful vocals soar, his Jamie Woon-lite music and chart-ready charisma (and pulsating dance moves) jar.
While Daniel Snaith (aka Caribou; aka Daphni) maybe feel omnipresent in much the same way as bro-friend Four Tet, it's been a while since the last actual Caribou album and full band tour. Tonight, the four-piece – still playing all in white facing each other via a centre-stage huddle – sound hungrier than the last couple of times I've seen them, extending tracks from Swim (highlight: closer 'Sun') into rave-jams and showcasing the dancier direction of their new material (highlight: 'Can't Do Without You'). However, whereas four years ago Caribou's colourful indie-electronic music was pretty groundbreaking, shades of beige seem to be appearing. Great show, nonetheless.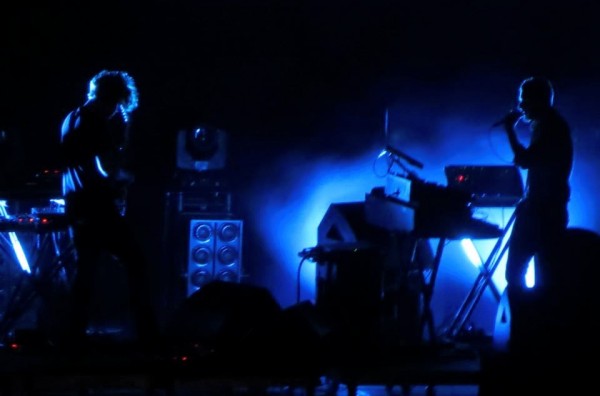 The highlights of the opening concert; the highlights of the whole festival; the highlights of the whole damn year, however, are Darkside. Experimental electronic poster-boy Nicolas Jaar and trusted guitarist Dave Harrington take the amphitheatre attendees on a journey of psychedelic, prog rock and techno; we are challenged with extended periods of distorted noise or sparse, random beats, but are rewarded with epic, post-rock crescendos and euphoric techno climaxes. With the architectural background, the dry ice, the breeze from the next-door harbour and an impressive sound quality, Darkside have never looked or sounded so fine. The fact that this is one of their final shows before the project is put to bed, whether for good or not, only served to make this set all the more special.
Thursday
After the aforementioned Hyperdub boat trip around the peninsula and an afternoon of frolicking in the glorious sea at the sun-kissed beach stage, where an acoustic Kwabs set provided the soundtrack (note to Kwabs: keep it simple, like this, and ditch the empty electronica), it's time to head into the main festival site for the first time. On the outskirts of the fort in an open area surrounded by woodland lay the makeshift main stage, named The Clearing. It is here that jazz-funk pioneer and all-round soul legend Roy Ayers, now in his sixth decade of performing, delivers a classics-filled set – both him and his seasoned band seem surprised that so many rave-heads have turned up so early to see him (or perhaps Roy was confused as to what he was doing with all these rave-heads…in Croatia), and Ayers is visibly touched when the whole crowd sing unofficial Dimensions anthem 'Everybody Loves The Sunshine' back at him.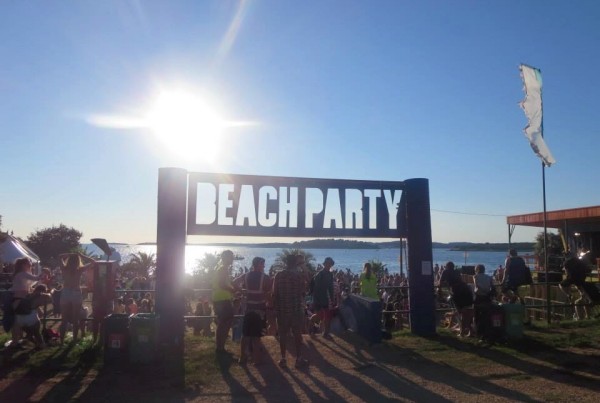 After catching half of indie sirens Warpaint, where dodgy sound falters their attempts to serenade a restless crowd with their blissful but misplaced dream pop, the exploration of the fort stages begins. First up is Laurel Halo on the Fort Arena 1 stage, her techno armed with less melody than usual, and then it was over to the massive, open Void stage to see some of Berghain legend Tama Sumo. The main event of Thursday was undoubtedly over at the Mungo's Hi Fi stage: a more intimate stage within the fort ruins, accessible by snaking through tunnels, over bridges and down to what felt like the fort foundations. The stage, run by the Scottish reggae soundsystem of the same name, featured the most powerful sound setup, and was perfect for highlight Mala and his grooving, pulsating oldschool dubstep. Meandering through gritty classics, dark dub cuts and more contemporary slabs of bass music (without ever nearing trap), the crowd seemed to wobble and quiver in unison. It was heady stuff.
The night was rounded off back in The Void, where most of the festival attendees seemed to have flocked in to see Marcel Dettmann flutter around all the edges of what could be classed techno without ever fully diving in or veering away. Still, it was a tasty way to end day one, even if it felt a bit like a light bite.
Friday
As a massive Gondwana fan, Friday was all about the Beach stage during the day. After Devon singer-songwriter Rosie Lowe kicks things off with her witch-house RnB, bolstered by an all-female band (more Jamie Woon-esque than Jamie Woon-lite), the Gondwana jazz label takeover begins with head honcho Matthew Halsall's bass heavy DJ set (first track: one of the heavy, new Mr. Scruff productions). The groggy sunbathers might've expected something a little lighter to ease themselves into the day, especially at this idyllic beach setting, but Halsall seemed less about gently waking them up and more about bass-bashing them into submission. Label mates GoGo Penguin, the experimental piano jazz trio, follow with one of the sets of the weekend. Debuting new songs alongside v2.0 (their latest album) tracks such as 'Garden Dog Barbeque' and 'Hopopono', GoGo and their inventive piano tinkering, erratic double bass parts and liquid drumming definitely find some new fans today. After a swim soundtracked by the Gondwana DJ set, Matthew Halsall plays the sunset slot with his latest electronic trio project, featuring Submotion Orchestra's Taz Modi. The Portico Quartet-inspired electronic jazz music is less bass-heavy and (slightly) more up-tempo than previous shows, with Halsall's controlled trumpet lines commanding momentary serenity as the pink sunset reflects off the sea. I mean, talk about perfection…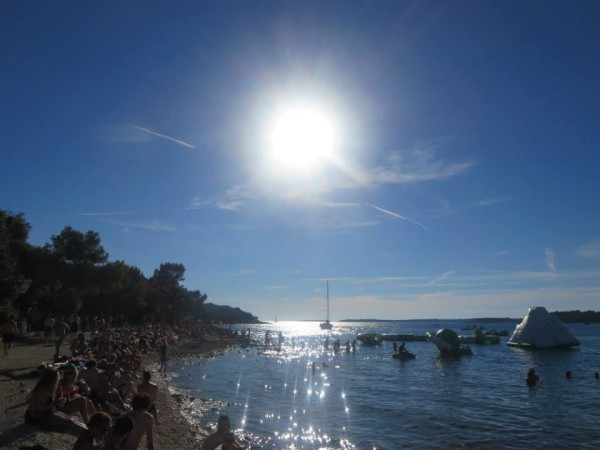 In terms of consistency, Friday night's lineup was probably the best of the weekend. The first few hours are spent at Mungo's where the ever-dependable Kutmah effortlessly smashes out an engrossingly full set of hip hop, mixing in his usual LA instrumental beats with southern hip hop and some straight-up gangsta rap, before Flako's live set of layered glitch-hop, using a mic to add occasional looped vocals and incorporating loads more bass than normal. Due to a last-minute reshuffle of The Clearing programme, vaguely and unhelpfully explained as 'Technical Issues', Jon Hopkins plays a couple of hours earlier than he was originally scheduled to. Now, I love Hopkins' productions…I love them a lot. But I've seen him live roughly twenty-nine millions times since he released Immunity and, seeing as he has tended to churn out pretty much identical sets, I wasn't expecting much. Much to my surprise, he kills it tonight – streamlining the amount of material used from Immunity, adding in carefully concealed snippets of his soundtrack and artist productions (did he or did not play Coldplay?), as well as fleshing out his melodic techno with the euphoric synth blasts that borderline trance, Jon Hopkins more than justifies his headline status.
After a brief trip back to the Fort Arena 1 stage to see Huerco S dish out a classic house and techno set with a focus on older bangers, it was time for a first outing to The Moat stage. The Moat, down from Fort Arena 1, is just as you imagine: a long, thin space with extremely high walls and a stage at the furthest end to the stage entrance. It maybe claustrophobic, but it's absolutely wicked for aggy, Germanic techno, which L.I.E.S. legend Ron Morelli messes around with (although the more unforgiving techno is saved for the next couple of nights). The night finishes with mega-selector Theo Parrish, probably attracting the biggest crowd of the weekend at The Void, where he delivers a particularly soulful set of harmonious house right up until the sunrise. Heaven.
Saturday
Rinse affiliate Josey Rebelle was the highlight of the day time Beach DJs with a surprisingly hard set, but at this point deep into the weekend it is the warm, world-infused soul of Brownswood favourite Andrew Ashong that proves more agreeable. His voice more confident and guitar more bluesy than the last time I saw him (supporting Rosie Lowe at Hackney's Oslo), he soon attracts a respectable crowd at The Clearing. The next couple of hours are spent at Fort Arena 1: first, former gospel singer and piano tinkerer Seven Davis Jr.'s re-emergence as a house producer/DJ continues to gain traction, with the man crooning over a selection of soulful house and stiffer disco cuts, then his friend and collaborator Funkineven adds some electro-funk and a faster tempo while retaining the same vibe. The crowd lose their shit when Seven Davis Jr. comes back out to briefly sing with Funkineven DJs.
Due to some unexpected rescheduling of The Clearing set times, we are then treated to the soulful tones of '90s Brit neo-soul stalwart Omar. Omar seems to fully connect with the audience as he and his band run through his trademark RnB. Did you know he'd received an MBE in 2012? Tonight at The Clearing, however, is all about the legend, the hero, the man of mystery: Moodymann (aka Detroit's Kenny Dixon Jr.). When he finally arrives on stage – flanked by two glamourous disco divas straight from the '70s, wearing sunglasses and fanning themselves – it's to the biggest reception of the whole weekend. One of the most important figures in techno and house working today, this acclaimed DJ-producer played a pivotal part in taking the sound of Detroit techno to new heights. Tonight, he sticks mainly to house (as it is called today, anyway) – often funky, always soulful, he occasionally distorts the classic-sounding purity with hip hop basslines and unconventional jazz samples. Basically, Moodymann completely smashes it, like he always does.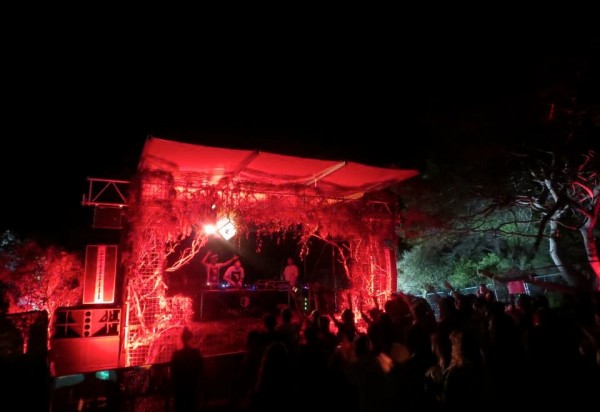 He was always going to be a tough act to follow, but Daphni (aka Caribou) is a man with a plan and, crucially, many fans. I've often found Daphni's DJ sets (and recordings) to lack bite and consistency, but tonight he takes Dimensions on a decent ride, smartly avoiding soulful house (why bother inviting comparisons to your heavyweight predecessor) and getting stuck into grimy house and bass-driven techno. Missing the end of Daphni to end the night, as always, at The Void, it was Belgium's San Soda who finishes things off, offering groove-orientated party music in the form of straight edge disco and funk – the closing banger, Larry Levan's remix of Gwen Guthrie's 'Seventh Heaven', was inspired, or at least felt so at the time.
Sunday
So Sunday…where to begin? Well, first of all, due to forces beyond my control (a lack of an alarm clock), the music at the Beach was completely missed (I got there for the very, very end of The Internet). No judging, please. Then it was over to Mungo's to attempt to see personal favourite Om Unit, only to find a bunch of unidentified guys playing drum 'n' bass which, though perfectly fine, was not what the doctor ordered to start off the night. So it was up to Fort Arena 1 for some smooth, dancehall-laden hip hop via Kaytranada. Or so I thought.
Now, some rain had been forecast and distant forks of lightning had decorated the sky for a couple of hours, but NO ONE could've predicted or readied themselves for the hardcore opening of the heavens that suddenly lay waste to Dimensions; it was beyond torrential, it was like God himself had intervened, deciding that us hedonists had had more underground music that we were entitled too. Every stage at Dimensions is open air (not a tent in sight), so people scattered to find any kind of cover, of which there was very little (we managed to pack into the tunnels of the fort, while many less fortunate souls were forced to cower in ungodly portaloos). About 10% of people attempted to rave on, but God was having none of it and (allegedly) struck the festival generator with a bolt of lightning, killing all the music on site. The grounds of the fort instantly became a mud bath, with The Clearing hit worst (the ridiculous winds meant the back of the stage became flooded), and plenty of the performers' equipment was damaged beyond repair. The earth literally shook each time the lightning fired down and the thunder played more havoc with my tinnitus than standing next to the speaker during Karenn's Moat set, had it gone ahead, would have done.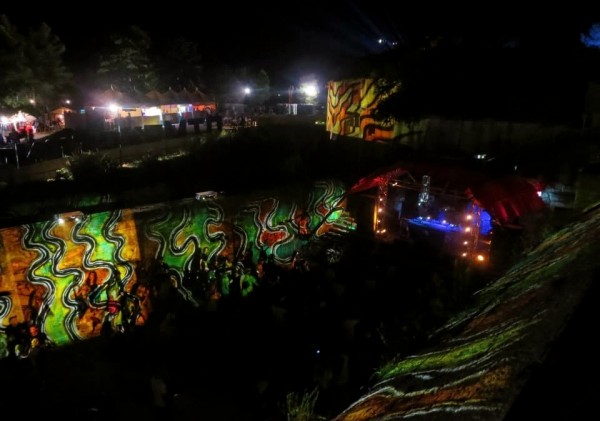 All this doom and gloom, however, was never going to last. This was the last night of Dimensions. This was not how the weekend was going to end. Only ravers decide when they stop raving, not the weather…and certainly not God. So, in the face of this Armageddon, we all donned our best Bruce Willis frowns and piled into The Moat. Perhaps it was the sheer perseverance of the attendees and DJs, perhaps God had caught sight of the inside of the portaloos and felt they were punishment enough, or perhaps it was due to the incredible and commendable organisational efforts of the site staff (probably the latter), but the music suddenly started pumping out again. Every now again another momentary downpour would be unleashed, but this only made people more determined; brought people closer together. During the rain, everyone at the front of The Moat would lift up silver medical thermal blankets and dance underneath them, raving in tortoise formation. DJ Richard (excellent) and Anthony Naples (more excellent) provided a hard, often industrial techno soundtrack for drenched dancers to stomp along too, and, for those that dared to stay, some of the all-time best festival memories were forged.
Although the storm eventually subsided, the battle was not without its casualties: The Clearing was never able to reopen, so acts like Juan Atkins & Moritz Von Oswald (10 minutes into their set when the storm hit), Aux 88 and Underground Resistance were unable to play, while Nina Kraviz moved over to The Moat. Also, Karenn were unable to play, which had been one of AAA's most anticipated acts of the weekend. However, on the flipside, Floating Points and Motor City Drum Ensemble, who had been billed one after another, joined forces and performed an incredible, unplanned B2B set to close The Void, night and festival; it felt symbolic of how everyone (the attendees, staff and artists) had come together to ensure a high-spirited and exceedingly memorable end to Dimensions. Take me back.
Review: Clive Paris Rozario
Photos: Steph Hollox + Clive Paris Rozario