Bonobo – Live @ Alexandra Palace
aaamusic | On 03, Dec 2014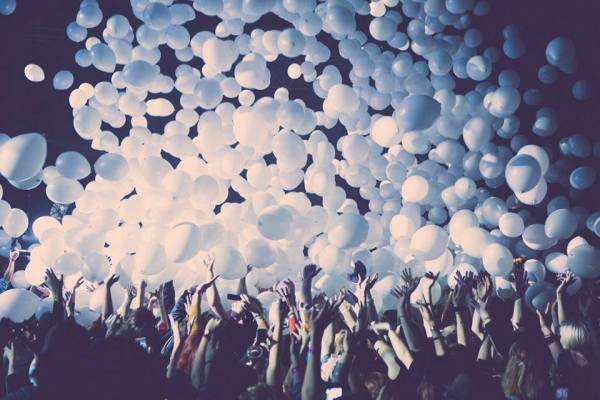 Friday 28th November, London
Well, this is brilliant. One of the finest purveyors of subtle but experimental electronic music, Bonobo (aka Ninja Tune's finest, Si Green) has sold out the mighty, 10,000-capacity Alexandra Palace.
The fact that his continued success this year is still off the back of his 2013 album The North Borders – this is the final date of a 180 show world tour – makes it all the more impressive. I mean, he already sold out Brixton Academy as part of this same tour. Tonight, however, feels much more special than Brixton.
Darkstar, reduced to a two-piece this evening, are up first with a short, gruelling set. In the absence of their frontman, the duo wisely deviate from their trademark euphoric electronic pop sound, meandering through slowed techno with heavy beats and warped, industrial garage, before finishing with some of their synth-washed post-electronica. Darkstar's full live show might've been more appropriate this evening, but the Warp outfit certainly raised a few eyebrows this evening.
Next up is Gold Panda, aka Peckham-born Derwin Schlecker, who treats the growing crowd to a selection of his skittering productions, creating the bulk of the music live through sequencing, programming, etc (basically, pushing a load of buttons). I've always rated Gold Panda as a live act – he decorates his tunes with additional layers when performing: a flourish of Germanic techno here, a shade of UK bass there. He sounds a lot more like Jon Hopkins than when he first started out, eschewing his early glitchy witch-house and Four Tet vibes in favour of melodic techno. Cuts from his debut, Lucky Shiner, always sound the best, especially the hip hop flavoured 'You', which he closes the set with.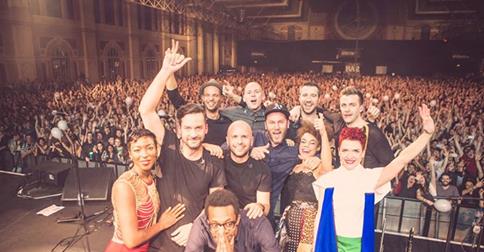 Si Green – who initially comes onstage solo, taking his place behind his elevated equipment – is greeted by a pretty overwhelming reception when he begins the intro to 'Cirrus'. Slowly, each member of the expansive Bonobo live band joins him on stage. Before long, the stage is filled with maybe 20 musicians, including a 13-piece mini orchestra. What follows is nearly two hours of blissed-out, trip hop-laced electronica, elevated by some serious musicianship, including a formidable drummer, horns, triumphant strings and, of course, Si Green's bass.
The setlist is mainly divided up between Bonobo's last two albums: the equally divine Black Sands and The North Borders, the latter of which spawned this tour a whopping 18 months ago. The sound tonight is perhaps the greatest I've ever heard at Ally Pally, topping even The Black Keys, which allows all the orchestral flourishes and ambient nuances to reach our ears.
Instrumental tracks like 'Kong' and 'Emkay' are soothing despite the jittery shuffle of their underbellies, and 'We Could Forever' has lovely tropical vibes, but it's 'El Toro' and 'Kiara' that make the most successful use of Si Green's full band; these orchestral lounge jazz tracks must've been written with the live arena in mind. Bonobo also manages to include his new percussive house banger 'Flashlight', which is a real nice treat.
All the greatest moments tonight come courtesy of Bonobo's guest vocalists, with Szjerdene taking Erykah Badu's place on 'Heaven For The Sinner' and Si Green's loyal collaborator Andreya Triana lending her glorious vocals to 'Stay The Same' and 'The Keeper'. Better still, Grey Reverend makes a surprise appearance for the subdued neo-soul of 'First Fires' and Cornelia lends her ethereal voice to 'Pieces' during an encore which slightly outstays its welcome, thanks to the anticlimactic 'Black Sands'. But by this point no one cares – the crowd are dancing around in the aftermath of the confetti explosions and heavenly release of balloons. What a truly celebratory show to round off Bonobo's epic North Borders tour.
Clive Paris Rozario
Photo courtesy of Dan Medhurst via Ninja Tune…