SKINDRED – Ninja
aaamusic | On 13, Sep 2013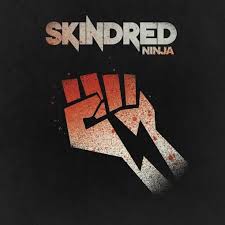 Skindred, the Newport rockers with a twist of reggae, have been on the scene since 1998, hitting out songs with their unique style of Benji Webb's raga vocals and the eclectic mixture of punk and metal vibes in their sound.
First seeing them with Pitchshifter in 2003, Skindred made an impression on myself to last a lifetime, with Benji Webb's banter (picking on myself through their set) and all round fun persona, their music has been a favourite ever since.
Onto Skindred's new offering song: 'Ninja' blasts out with the usual loud guitar sounds, with over spoken vocals and violent drum kicks from drummer Arya Goggin, rolling into the funky lyrics coming out of Benji's reggae influenced mouth.
'Ninja' is a great new song from Skindred, who have gone from strength to strength over all these 15 years, and who always blast out every now and then with a catchy melody, full of their electro influences and catchy words throughout their songs.
'Ninja' follows on from 2011's Union Black album with the ferocious impact of music and heavy guitar sounds ringing out. The single is taking from the forthcoming album Kill The Power, set for release in January 2014, which by the sounds of this is going to be Skindred's best to date.
Sam Panasuik