Bill Wyman's Rhythm Kings – Live @ Aylesbury Waterside Theatre
aaamusic | On 07, Nov 2013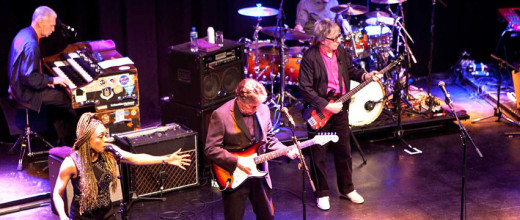 Sunday 3rd November, Aylesbury
Legendary Rolling Stones bass player Bill Wyman has invited many fine world-class artists to help him blend blues, rock, country and R&B for his 2013 tour. On stage they really do seem to love what they do.
The Aylesbury line up comprised Bill Wyman, Albert Lee, Beverley Skeete, Terry Taylor, Geraint Watkins, Nick Payn, Frank Mead and Maria Muldaur as guest artist, well-known for her hit  'Midnight at the Oasis'. Sadly, Georgie Fame was not well enough to be with them.
Albert Lee's amazing and incredibly fast guitar playing was clear on the Gene Vincent classic 'Race with the Devil', whilst in James Brown's 'It's a Man's Man's Man's World' Beverley Skeete's vocals were inspiring and  powerful. Maria Muldaur's version of 'Richland Woman Blues' by Mississippi John Hurt was soulful, gritty and edgy. The album of the same name was nominated for a Grammy Award in 2002. Also, the famous Elmore James song 'Talk to Me Baby' was covered with style and energy by Terry Taylor.
This was an enjoyable and pleasant evening of quality entertainment and fun. The rebirth of songs written by artists like Bob Dylan, Eta James, Buster Brown and  Fats Domino enabled the performers  to return to their musical roots and it bought back to life the classic songs that first inspired them. The band was tight, humorous,  professional and delightfully wild at times.