TAYO IRVINE HENDRIX – Experience This
aaamusic | On 29, Nov 2013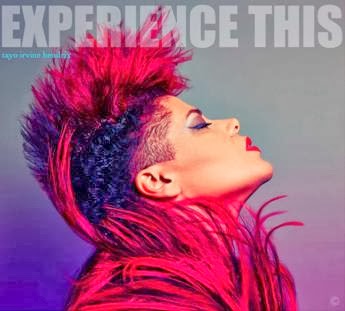 Musician Tayo Irvine Hendrix, drummer, vocalist, songwriter, composer and percussionist, is the daughter of the late Jimi Hendrix. She clearly loves music just as passionately and says that 'drumming is in my genes, it is who I am and who I was born to be'! As an experienced healer and counsellor she also teaches positive thought and action through the Tayo Healing Programme.
Her latest album Experience This has been mixed by Blake Eiseman, who has worked with Pink, Usher, Janet Jackson and Aretha Franklin. It embraces a wide range of musical influences, fusing blues, soul and R&B and giving it a spiritual tone.
'I Am Rama' demonstrates Tayo's warm, smooth and sultry vocals whilst in blues track 'Crazy Dayze'  there are some great jazz rhythms and a soulful guitar together with some strange but catchy lyrics. The lively and colourful 'I See Clearly' contrasts with the slow and pleasant 'Calling All Angels'. In the final track 'Champion'  Tayo's distinctive voice is strong and powerful.
Tayo has been committed to music from an early age, and after three decades has succeeded in creating her own individual sound. Her book The Healer tells the story of her early life and her desire to live life to the full, no matter what she encountered. The same attitude is reflected in the energetic and vibrant music she creates.
Anthony Weightman