AAA Music Approved: Mammal Hands
aaamusic | On 02, Oct 2014
AAAmusic: Who are you and where are you from?
Mammal Hands. There's three of us in the band: Nick Smart (piano), Jesse Barrett (drums and percussion) and Jordan Smart (saxophones). We are all musicians living in Norwich, where we met busking and started playing together in early 2012.
AAAmusic: What inspired you to get into music?
We really like the freedom of music, in particular the improvised aspects of jazz and the energy of performing live. Our influences come from a lot of other genres as well, particularly Indian, African, electronic and folk music and we try to incorporate elements of these styles into the way we approach writing and playing.
AAAmusic: What have you done?
We have just released our first album on Gondwana Records, which is called Animalia. We've played a bunch of gigs this year including at Love Supreme festival and Ronnie Scott's supporting the Gondwana Orchestra. More recently we had our album launch at Norwich Arts Centre with GoGo Penguin, which sold out and was a great gig for us.
AAAmusic: What are you like live?
At the moment we've mainly been playing live a lot with GoGo Penguin and Gondwana Orchestra, who are both our label-mates and our music all fits well together. We try to cover a lot of ground live and make the set flow, in terms of intensity of sound, breadth of mood and soloing.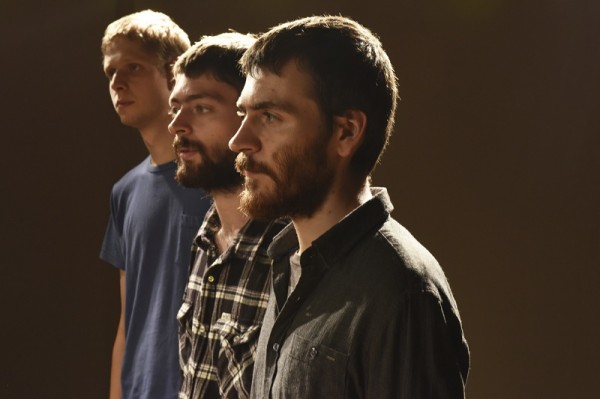 AAAmusic: What makes you different?
We don't have a bass player in the band, that changes things a bit, so we have to work to make sure the sound is well-balanced. So compositionally that is quite different. Also, our music is completely instrumental, and we try to balance which instruments carry the melody and harmonies in each track.
AAAmusic: Physical vs Downloading vs Streaming…How do you listen to music?
Nick and Jordan both DJ, and we all collect vinyl avidly but also listen on CD and online. None of us use spotify or itunes, but check a lot of new stuff out on Youtube and blogs.
AAAmusic: What have you been listening to?
Recently we've been really into Sons Of Kemet, Ras G, Moondog, Roland Kirk, Charles Tolliver, Shlomo, Don Cherry, Madlib, Bismillah Khan.
AAAmusic: What are your aspirations for the future?
We're currently booking gigs for next year and are hoping to do some gigs further afield, in Europe and around the UK, and also are really enjoying writing our second album and testing out new tracks live.
Questions answered by: Mammal Hands…
Check out our live review of Mammal Hands performing alongside the Gondwana Orchestra and GoGo Penguin at the Gondwana Mini Fest here…
And check out our review of Mammal Hands' track 'Mansions Of Millions Of Years' track here…