Melt! Festival 2015 – Live Review
aaamusic | On 27, Jul 2015
Credit: Thomas Quack

Credit: Thomas Quack

Credit: Thomas Quack

Credit: Thomas Quack

Credit: Thomas Quack

Credit: Thomas Quack

Credit: Thomas Quack

Credit: Thomas Quack
Friday 17th – Saturday 19th July, Berlin
Germany's Melt! Festival has got to be one of the grandest, most awe-inspiring locations for live music there is in Europe. Located near Gräfenhainichen, not far from Berlin, the festival site is beside an immensely beautiful lake on an isolated, natural peninsula, with the stages located within the Ferropolis: a former mining site and 'open-air museum' containing giant industrial cranes, lit up expertly and laced with the odd flame thrower. Musically, it is historically alternative, leaning heavily on techno and experimental electronica, but also catering for those who love a bit of indie and trip hop. This year, however, Melt! introduced a new element…something totally unexpected…something completely, in a way, leftfield, pushing the boundaries of what could be considered an alternative festival…something that EVERYONE was thinking, speaking and fighting about…Kylie Minogue.
Friday
Scotland's Mogwai are famed for their ferocious, uncompromising live performances and if there was ever a time for a band like this to attempt something a little more accessible it was now, ahead of headliners London Grammar on the Main Stage. Impressively – and not at all surprisingly – the leading force of post-rock stuck to their guns and delivered the true Mogwai experience: extended, primarily vocal-less deep cuts; droning, monotonous guitar distortion; prolonged periods of minimalism that almost constituted nothingness; and the occasional foray into gargantuan, guitar-led heavy metal. They didn't even really play the 'hits' for God's sake, and although the majority of the crowd were totally confounded (most people around me had a set-long grimace), sapping little of the band's normal atmosphere, Mogwai's bold, otherworldly rock music proved an early Melt! highlight – particularly the electro-krautrock of 'Remurdered' from 2014's underrated RAVE TAPES and the sprawling closer, 'My Father, My King'.
The Modeselektor-curated beach stage – titled the Desperados Melt! Selektor stage – was the setting for much of this weekend's big name UK electronic artists, with the likes of Autechre, The Orb, Dark Sky and The Bug blasting their dark, heavy and deeply experimental music over the gigantic Gremminer Lake at various points. Having missed Jamie XX's sundown set earlier in the evening due to some unfortunate delays in getting into the site (festival access was temporarily halted when the Internet broke, supposedly caused by the searing heat melting a power cable), it was up to Bonobo to be Friday's beach highlight. Although his DJ sets rarely venture into uncharted territory, they are always masterfully mixed, featuring a good spread of melodic Bonobo hits, trip hop, bass and occasional forays into rave music, making it ideal beach music.
Over at the main stage, London Grammar's 'comeback' was in full swing. Having dominated the European festival circuit pretty much continuously since the release of their hugely successful 2013 debut If You Wait, the UK neo-pop slash trip hop trio are finally armed with some new material. Lead by the ethereal vocal beauty of singer Hannah Reid, the band were a surprisingly commanding presence, especially considering the lightness of their downbeat, electronica-laced indie pop. With a sound positioned somewhere between Florence + The Machine and The xx, London Grammar aren't exactly doing anything particularly innovative, but they certainly know how to build emotion and anticipation through simple guitar lines and electronics, and Reid's haunting vocals are ale to deliver satisfactorily dramatic melodies when required. Their climatic rendition of hit single 'Strong' was undeniably powerful, the strength of its performance justifying their headline status alone.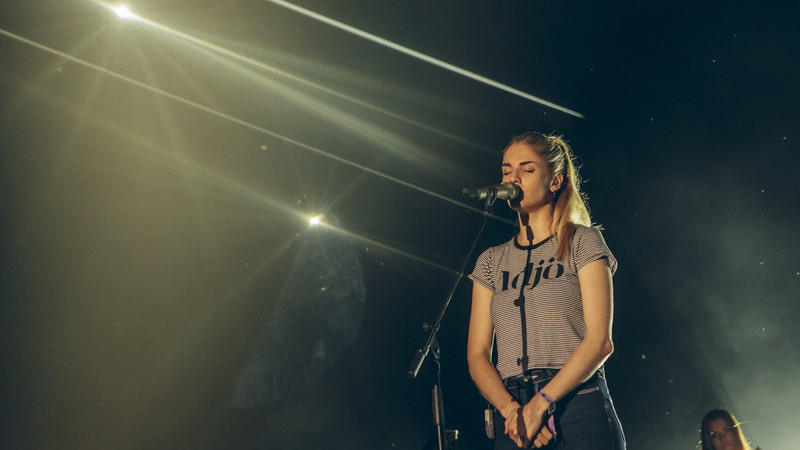 Next up on the main stage was Berlin's very own Nils Frahm and his twin-piano, neo-classical musical experience. A firm favourite of AAA Music, it's been very rewarding to see his star rise so considerably over the past couple of years. This is likely due to the fact that his ambient and modern classical performances have become increasingly dance-orientated in recent months, and this performance was a perfect indicator of where he is at now, musically and status-wise. With his back primarily to the audience and flanked by two pianos (plus some synths and electronic equipment), Nils Frahm created synth-led, post-electronica soundscapes that built and built into towering crescendos of powerful sound in the same vein as an artist like Jon Hopkins at his beat-less best. This guy is a true visionary and although this set wasn't a patch on his incredibly moving, sunset performance at Dimensions' amphitheatre last year, the massive reception he got from the audience proved that his new direction has cemented him a considerable new fanbase.
The rest of the night was rounded off with some excellent electronic music: Clark's intense live show on the beach, Modeselektor's closing DJ set and, in between, Hudson Hohawke's new live show, featuring two additional musicians that added an interesting (though much-needed) new depth to his bass-heavy hip hop and wobbly trap music. The best HudMo has sounded since TNGHT went on hiatus.
Saturday
Following a brief but apocalyptic hail storm, which left the site covered in massive piles of actual ice, it was time for Evian Christ, the first major highlight of Saturday and AAA Music's favourite producer of 2014. The young Brit has had a phenomenal couple of years, being picked from relative obscurity to produce on Kanye West's Yeezus album in 2013 and releasing his wicked Waterfall EP last year. His early DJ sets enjoyably mixed trap and commercial rap, but were ultimately disposable. However, following a truly inspired live set supporting Nicolaas Jaar at The Barbican, Christ seems to have poured a whole load of effort into his live shows. Tonight he was backed by his intense AV show consisting of the brightest, most insane strobe lights I've ever witnessed and primarily white visuals beamed laser-like onto a row of screens. And smoke…lots of smoke. The man himself, positioned in front of the AV show, was barely visible, but when the dry ice cleared you could see that there wasn't a laptop in sight – just a huge desk of programming equipment. The set itself was centred around his Waterfall EP, which meant heavy, robotic bass, trap timings and industrial blast beasts. It was heavy. It was heady. It was too much for some (many left half way through the set).
Boycotting Django Django (not on as buoyant form as usual) to go catch some of Lamb Ent's (aka Francesco Previtali) set in the VIP area, it was then all about the main stage, one unlikely performer and the unexpected highlight of Melt! 2015. Hell, the unexpected highlight of the whole of 2015. Kylie Minogue. A total curveball of a booking for an alternative music festival that specialises in leftfield electronic music, the Aussie pop superstar had been the main talking point in the lead up to the festival, from whispered rumours of an experimental performance to full-blown cries of  disdain. This would have been the 'Kanye vs. Glastonbury' of Melt! Festival had Miss Minogue not seemed so totally oblivious to the whole kerfuffle. Throughout the concert she would stop and speak to the crowd (waaaay too much), saying such insincere things like "it's because of all of you why I'm still going", completely naïve to the fact that many people here were disappointed with her booking, or at the very least ambivalent.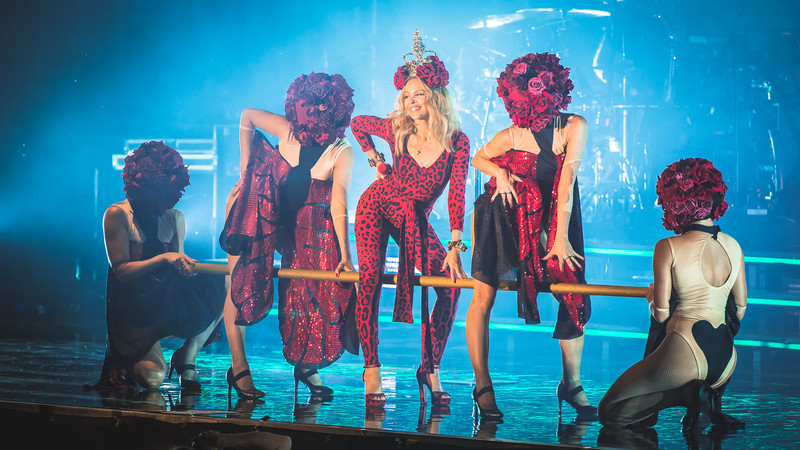 Kicking off with 1990 hit 'Better The Devil You Know' and backed by the same full, glitzy mega-pop band and production that she's had for her whole world tour, including the recent headline concert at Hyde Park, Kylie Minogue proceeded to win over the whole of Melt! Festival, completely unaware that she ever needed to win it over. Split into three 'acts', Kylie – dressed like the super showgirl slash pop queen that she is – delivered cheesy hit after cheesy hit: 'Spinning Around', 'Slow', 'On A Night Like This', 'Kids'…as well as 80s hits 'I Should Be So Lucky' and her famous cover of 'The Loco-motion'. Even a God-awful impromptu cover of Nena's German hit '99 Red Balloons' ("sorry I can't sing the German version") – an artist/song Brits consider a silly one-hit-wonder and for which many Germans take offence (Nena is quite the superstar here) – was riotous fun. Naturally, the highlight was 'I Can't Get You Out Of My Head', which the audience sang along to gleefully. In fact, many had been chanting the infamous "la la la, la la lala la" pre-chorus at her – half-sarcastically, half-adoringly – throughout the whole set (again, something she seemed not to notice). Ridiculous. I loved it. Everyone loved it.
After Kylie finished, it took a while for everyone – myself included – to remember where we were and acclimatise back into the actual alternative rave-heaven we had travelled to. Kaytranada's hip-hop-heavy set was a lot of fun in the Gemini tent, before Jon Hopkins took to the main stage for his nine millionth 'live' (DJ) set since the release of 2013's Immunity. In an effort to prevent boredom, he decided to give his over-played ambient techno songs a trance makeover, which was actually very engaging – I don't know if it was simply because it was the first set in 10 that I'd seen him do something different, or because it turns out I actually like trance. Either way, it was a solid set. Then it was over to Melt!'s Sleepless Floor – a great little stage just outside the main site – for Pete Tong's sunrise house and techno set. Good morning.
Sunday
Sundays at Melt! Festival tend to be pretty low-key affairs, with some of the stages closed (including the beach stage) and all the main music ending around 1-2am. The major act of the night was headliner alt-J who, despite having released a fairly excellent sophomore record with 2014's This Is All Yours, fell a little flat. Their indietronica sound isn't a million miles away from London Grammar (if anything, alt-j have more bite), but there just wasn't quite enough presence. Their 'heavier', bass-bottomed songs like 'Every Other Freckle', 'Hunger Of The Pine' and jangly closer 'Breezeblocks' hit home, but, other than a lovely cover of Bill Withers' 'Ain't No Sunshine', the slower, more introspective moments like 'Warm Foothills' and 'Something Good' – so charming on record – didn't quite connect. But maybe that's because nothing will ever quite connect the same after witnessing Kylie Minogue…
It was then over to the Big Wheel Stage (the main dance stage) for techno goddess Nina Kravitz' festival closing set (I swear all festivals are closed by Nina Kravitz), before a final trip to the Sleepless Floor just outside the main site gates for Melt!'s traditional final act, the wonderful Ellen Allien, who put on an uplifting tech-house set for those not quite willing to let the festival end. An excellent year for an excellent festival, thanks in part (mainly) to one ridiculously ridiculous pop star. La la la, la la lala la. So, Taylor Swift near year? I'm joking. I'm not.
Clive Paris Rozario