Soundwave 2017 – Live Review
aaamusic | On 11, Aug 2017

You know you're getting old when the smallest and most chilled out of the major European festivals is the one that sounds the most appealing. With a capacity of under 2000, Croatia's Soundwave is as intimate as it gets, and with that intimacy comes a festival experience unlike any other. It manages to incorporate all the best bits of a full-size festival – the music, the production, the facilities, the party vibes – but since there are no queues or overcrowding or on-site travel logistics to stress about, festival-goers can just focus on having a jolly good time: hanging with their friends, making new friends (and believe me, it's so cosy that you end up making mates with almost everyone there), and, most importantly, actually having a beach holiday alongside their festival. The location, at a coastal site called 'The Garden', is as beautiful as Croatia has to offer, and the lineups showcase an interesting alternative to the rave-centric programming of the regular festival, with more of an emphasis on hip-hop, soul, jazz and world music – perfect for the sun. And BOY was there sun. Soundwave 2017 was caught in the middle of a Southern Europe heat wave called 'Lucifer'…Lucifer!? Anyway, join us as we remember the highlights of this joyous and unique event, The Little Festival That Could…
One of the live music highlights of the whole festival came at the very, very start, with Laura Mvula's groove-laden main stage performance on Thursday afternoon. Billed as a "stripped back set", one might've expected a breezy acoustic set from arguably the most commercially relevant artist on this year's lineup. Instead, we got a pumping funk-soul set full of colour and energy, with Laura Mvula rocking a keytar and backed by a versatile three-piece band. They played the hits, or slightly embellished versions of them, and Mvula's vocals and stage presence (and those shades!) were as powerful and memorable as you'd expect from such an acclaimed artist.
Before the headline act, there was just about enough time for a little swim and some grub. Now, I don't normally consider food relevant to a music review, but I feel absolutely compelled to tell you about the burger van that Soundwave had this year, and about how utterly delightful their Smokey Burgers were: juicy, flavourful, melt-in-mouth beef patties covered in gooey cheese and sauce, wrapped up in a sweet brioche bun. Best festival food I've ever had the pleasure of wolfing down, and one of the best burgers I've ever encountered (and I've encountered, and continue to encounter, my fair share…).
Next up one the main stage was the big man, the 'Godfather of Neo Soul' himself, Roy Ayers. Having seen him at Dimensions a few years ago, where he was the festival highlight, I had pretty high expectations. And did the jazz-funk and soul legend disappoint? OF COURSE HE BLOODY WELL DIDN'T. In fact, Roy Ayers, now a youthful 76 years old, was on even better form that Dimensions: sharper, cheerier and more engaged. Ayers and his band took Soundwave on a journey of oldschool soul sounds, funky fusions and jazzy interludes, all propelled by the frontman's understated but fully on-point vocals. Obviously we got 'Everybody Loves The Sunshine' – the greatest R&B slow jam of all time and a true Croatian festival anthem – but the true highlight was the soulful jazz of the epic 'Searchin'', with Ayers' showcasing his masterful vibraphone skills. I was in awe…we were all in awe. What a show.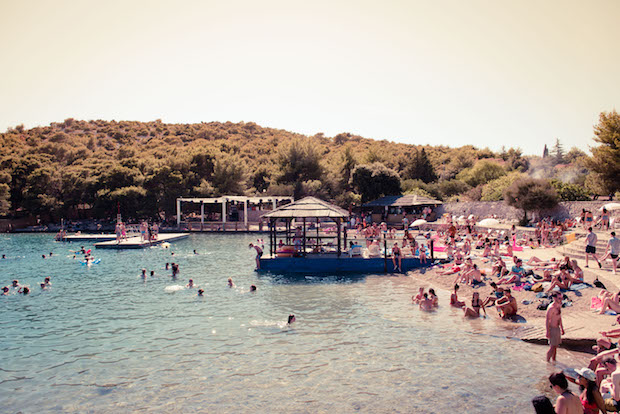 With The Pharcyde M.I.A. (their flight was grounded) and rescheduled for the following night, Friday was all about the beach stage…specifically the beach. What sets this Garden venue apart from other European coastal festivals is its idyllic beach and the fact that the smaller capacity means that there is plenty of room for chillin', swimmin' and dancin'. At Dimensions, for example, the beach stage is always chocka, which though maintaining a pumping party vibe means relaxing just isn't on the cards. At Soundwave, the day time festivities and gatherings at the beach are so spread out that it allows for a real holiday feeling, with punters able to calmly reinvigorate themselves with some sun and sea, soundtracked by summery soul and house sounds. Bliss.
Saturday night saw AAA favourite Anchorsong perform live on the main stage. He may have been missing his usual string quartet, unfortunately, and then there were those early technical issues, but Anchorsong – aka Masaaki Yoshida – still managed to deliver one of the sets of the weekend. Effortlessly looping beats, samples and synth lines, The Tokyo-born producer smashed out his usual mix of instrumental hip-hop, bass-heavy house and euphoric post-electronica, all to the delight of the growing audience. Yoshida's productions have come on leaps and bounds over the past couple of years, and with that he seems to have discovered a newfound confidence as a performer. One to watch, for sure! And then it was time for a Smokey Burger…
There had been rumours than The Pharcyde still hadn't managed to get over to Croatia, so praise be to Poseidon that the hip-hop heavyweights finally emerged for their main stage headlight set. The LA legends helped put Dilla on the map with their debut Bizarre Ride II… (or was it the other way round?), and although there are only two left from the original four MCs, they pull in the biggest crowd of the weekend by a mile. Most of their West Coast anthems are aired, including 'Ya Mama', 'Drop', 'Runnin'' and highlight 'Passin' Me By' (perhaps the greatest ever use of a sample in hip-hop…or perhaps just my favourite). Live hip-hop tends to be a little anti-climatic, especially since 99% of the time there is no live instrumentation, and tonight is no different. Nonetheless, The Pharcyde proved to be an inspired booking, kick-starting the night with the most crowd-pleasing performance of the weekend.
Sunday ended up being the most consistent day for music. Gilles Peterson was typically eclectic down on the beach stage, spinning a mix of funky soul, house, world beats and latin jazz (heavy on the latin jazz, as always) in the sun, while some people threw shapes on the dance floor and others threw shapes from the sea. My only regret of the weekend was missing Children Of Zeus on the main stage in between Gilles and Moses Boyd…I had planned to…I was walking over to see them…and you know what?…I caught a whiff of that damn Smokey Burger…and, well, that was that. I am a slave to them burgers.
Moses Boyd offered up a masterclass in drums at the main stage shortly after dinner, performing live drums over his electronic productions. Boyd is pretty much the hottest UK drummer there is at the moment, having won endless awards and racking up collaboration after collaboration, but this was a chance to see him do his own thing, on his own terms. Essentially, it was like a 45-minute drum solo, which ultimately proved too volatile for some, but for most it was a heady joy to witness this kind of next-level virtuosity. Moses Boyd could end up being the drummer of our generation, if he isn't already.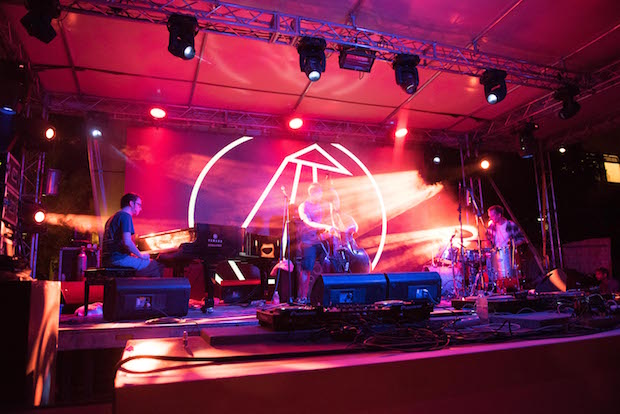 GoGo Penguin, headlining the main stage, were the undisputed live highlight of the entire festival. I've been an avid admirer since the very start of their career and it's been such a pleasure to witness their evolution. Tonight, their performance is perhaps the most confident and powerful of the ten or so times I've seen them live. GoGo Penguin's contemporary take on jazz is increasingly inspired by electronic acts (Aphex Twin is a name that always crops up), particularly in their drum parts, but what seems to be discussed less is their post-rock influence – what makes them such a brilliant live band is their post-rock like crescendos, and their newer material seems to be focused on developing his component even further. It's hard to pick out one particular highlight, but 'Garden Dog Barbecue' is always thrilling to see live, 'Hopopono' remains a hauntingly atmospheric piece of music, and 'Protest' is the most epic song they've ever recorded. I'll never get enough of this band.
The night was rounded off with a mammoth Roni Size set. He was scheduled for an hour and a half, but must've played at least double that, right up until close. The drum'n'bass stalwart drew the most energetic and frenzied crowd of the festival, with fans raving with reckless abandon right up until the 5am curfew. I'm not the biggest DnB fan, so when Roni Size suddenly mixed things up about half way through his set and starting pumping out hip-hop tunes, I was pretty happy for the change of pace. The audience, however, weren't on the same page, with many refusing to dance and some even booing. As Size's hype man MC Dynamite said, this man has been playing and supporting DnB for 20+ years, so if anyone has earned the right to experiment, it's him. Not that the crowd were capable of rational debate at this point, so it wasn't long before the DnB returned – and with it, the crowd's ravey hedonism.
Monday? How is it already Monday? The last day of the festival was all about one man, one legendary selector, one massive personality: Sadar Bahar, the oldschool Chicago house, funk and soul DJ. First, we boarded his 'Soul in the Hole' boat party and set sail around the beautiful Croatian coast, popping bottles of Prosecco, while dancing in the sun to a blend of classic funk, soul and disco so good it made my face all scrunchy. Later, back on land, and after one more Smokey Burger (I already miss you), Sadar Bahar delivered another storming set at the beach stage, this time upping the tempo with plenty of update nighttime disco. Wha a G! The night and the whole festival was closed out – at least for me – by Will Weaver of Weaver Bros., who threw together an eclectic mix of party tunes over at the Olive Grove stage, expertly and on the fly. Nice one Weaver.
I have so much love for this festival, this venue, these people, this music, this country…what a perfect weekend. Tickets for Soundwave's 10th anniversary next year in 2018 are now on sale. See you there…
Clive Paris Rozario
Photos: Jane Anderson